Terms and Conditions to Participate: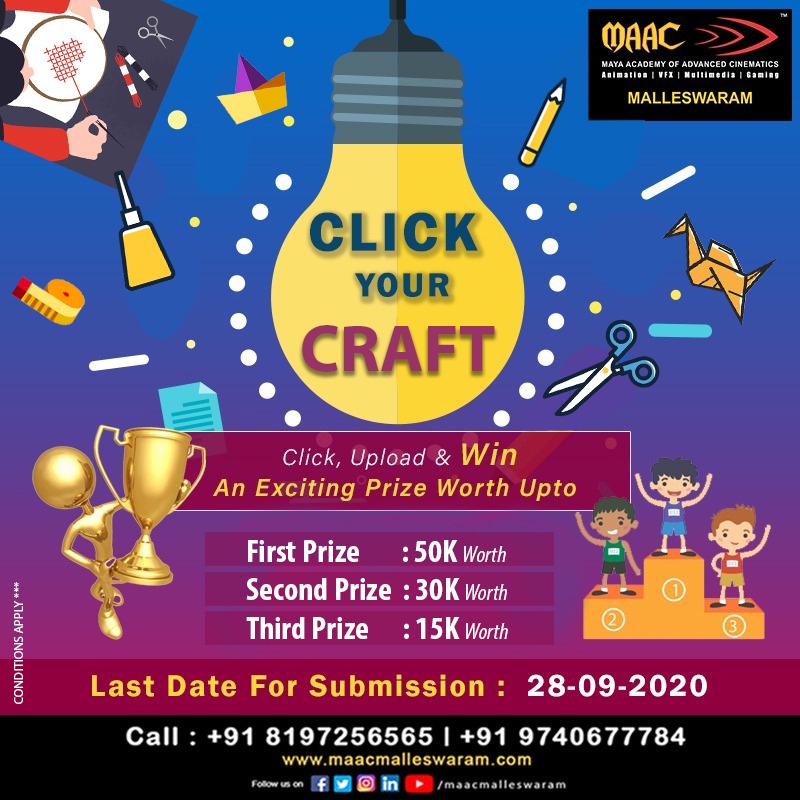 [ Ceramics and Glass crafts, Fiber and Textile crafts, Flower Crafts, Leatherwork, Houseware, Fashion, Needlework, Papercrafts, Wood and Furniture crafts, Stone Crafts, American Craft, Artisan Handicraft, Mastercraftsman, Studio Pottery]
First Prize: Rs 50000/-*worth
Second Prize: Rs 30000/-*worth
Third Prize: Rs15000/-*worth
*conditions apply 
 Organised by: MAAC Malleswaram
- Minimum age of 16 years and above are eligible to participate
- All  artists, school-college teachers and students, academics students of art & craft institutes and all art lovers, anybody who has an inclination for craft
- The craft-work should be original. The submitted work should be made of its own.
- The winner will be contacted via the email address provided during entry. If no response is received after [three] business days, a new winner will be selected and the previous winner will forfeit all rights to the prize.
- The prize must be collected by the winner and is non-transferable.
- The contest is void where prohibited or restricted by law
- Rules violators will be disqualified from the contest, stripped of any prize(s), and banned from entering future contests
- There is no Participation fee but each and every participant should be follower and friend on Facebook & Instagram / maacmalleswaram
 - Submit 3 Different angles of your craft [ all three angle image in one sheet /  as one collage ]
 - The information given by you should be complete and true
 - LAST DATE FOR SUBMISSION IS SEPTEMBER 28th 2020
 - Submission should be done through the given link
 - 50 craftworks will be short-listed by the selection committee out of all over entries
 - 20 works out of shortlisted craft-works will be nominated for the final round.
 - The winners will be selected out of 20 nominated craft-works
- All the participants and winners will get the information through our website
- RESULTS WILL BE DECLARED ON 30-09-2020
* MAAC MALLESWARAM students are not allowed to participate